I LOVE THE PINEKNOT TRAIL FOR THE BIG BEARS!
If you make a purchase after clicking on one of our links, we may receive a small commission at no extra cost to you.
The Big Bear Lake I frequent several times a year is not the city, but the lake. From my home in Carson, it's only a 90-mile drive, and a typical two-hour trip.
It is a reservoir in the southern California San Bernadino Mountains, and it is accessible from a number of good roads that start in the greater Los Angeles area.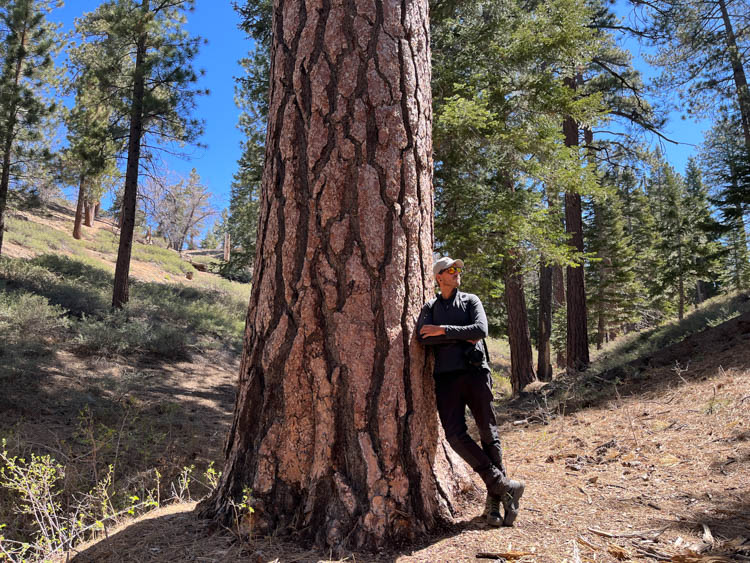 BIG BEAR LAKE OFFERS EVERYTHING
Why do I love this place so much? Simply put, Big Bear Lake in California has everything a traveler or resident could want or need to enjoy the great outdoors. During winter, there are multiple slopes for skiing and snowboarding. In the summer, people from all over the country flock to the lake and its surrounding forest.
Axe throwing is just one of many extreme sports that can be enjoyed during the summer months. Other options include kayaking, stand-up paddleboarding, swimming, sailing, hiking, tubing, bowling, cycling, and ziplining.
I've recently begun exploring the lake's many trails on foot. I haven't finished exploring all of the trails yet, but I think I may have found my favorite: Pineknot Trail.
BIG BEAR HIKE IN MAY
In southern California, the month of May can bring temperatures of any kind. Even though the first week of that particular month was unusually warm, it was still important to keep an eye on the forecast.
Big Bear Lake sits at a relatively high elevation of nearly 2100 meters (= 7,000 feet), so that's something to keep in mind. Because of this, the weather may be very different from the valley area where I currently reside.
Fortunately, I was one of the lucky ones. It was predicted to be a warm and sunny weekend, with highs of 19 to 22 degrees Celsius (65 to 72 degrees Fahrenheit).
Notice how "during the day" is emphasized here. Even though it was a pleasant 22 degrees Fahrenheit (72 degrees Celsius) during the day, the temperature at night dropped to a chilly 7 degrees Celsius (45 degrees Fahrenheit). Because I wasn't going to get an early start on my Big Bear hike, I needed to bring clothes that would keep me warm even if it was hot during the day.
STOCKING UP ON ESSENTIALS IS EASY AT BIG BEAR LAKE
On a Sunday morning, my wife and I checked out of our hotel at 8:30 am and hit the road. Several supermarkets and convenience stores were within walking distance of our Motel 6. Easy conveniences like fast food, cold drinks, and hiking gear are all within easy reach at Big Bear Lake.
In less than 10 minutes, we were able to park in a large lot directly in front of "Vons," which we reached after only 4 minutes of driving. We stopped for 8 minutes to eat some grapes, drink some water, eat some energy bars, and make my wife's mandatory coffee stop before continuing on to the Pine Knot Trail parking lot.
NATIONAL FOREST ADVENTURE PASS IS REQUIRED
We noticed a "fee parking" sign as we drove into the Pine Knot Trail (Aspen Glen Picnic Area) parking lot. Pine Knot Trail is one of the trails that calls for a "Natural Forest Adventure Pass," as we discovered by following the directions on the information board. The United States Forest Service charges for recreational use of their land.
Those who plan to stop by only once during a multi-day road trip should opt for the day pass. On the other hand, locals of the greater Los Angeles area would be well-served by purchasing an annual pass.
As a result, we were already back at the parking lot by 9:30 AM, only 15 minutes after making the short detour to the store. We marked the date of use on the pass with a scratch, stuck it where everyone could see it on the dashboard, and buckled up for the hike.
We were perplexed as to where to begin in terms of clothing selection because the temperature was misleading.
Enough heat in the sunlight, but a chill in the shade. Occasionally breezy, more often calm. Because we couldn't make up our minds, we started off by wearing long sleeves just in case.
FINDING THE TRAIL
Our first few steps out of the car were made next to a trail map and a bathroom hut. A wide field with a few trees here and there served as the setting for numerous picnic tables. We made up our minds right away that we would be eating there after our hike for lunch.
Right after we saw the "Trail" sign, we started climbing a hill that wouldn't let up until the very end of the trail.
While the ascent wasn't particularly difficult, initially it was unclear where to go. It looked like there were a few routes up the mountain, but they all went in different directions. When my wife inquired as to which direction we should take, my response was, "Your guess is as good as mine."
Select one and adjust your course as you go; that was our plan. In short order after making the first choice, we saw that all of these paths converged and led to the main path.
After ten minutes, the path became obvious, and it was nearly impossible to wander off in the wrong direction. We were shivering despite our rapid hiking pace. It was smart to opt for longer sleeves.
BREAKFAST AMONG THE PINE TREES
After walking for about half an hour, we came upon a sizable rock off to the right of the path. My wife was hungry while we were parking the car, but I had already eaten a power bar and some grapes. A quick breakfast was my recommendation.
Despite the wind, we were comfortable on the rock because of its sheltered location among the trees. When my wife was snacking on grapes, I dozed off for a while. Just the way I like it, everything was serene and quiet.
Large boulders became more numerous as we ascended the mountain. The rocks were stunning to look at, but we couldn't figure out how they got there, so they sometimes seemed "out of place." Then we reached the pine trees. The beauty of the pine trees along the entire trail left us in awe.
The trail's name gives it away: there are pine trees to see. However, there was something truly unique about this pine grove.
Perhaps it was the way the trees appeared? Maybe it's because of their size. Maybe it was the way they were arranged? Actually, I have no idea what it was. The larger trees, in particular, had a profound effect on me.
REACHING THE HALF-WAY POINT
We arrived at the forest campground after about 90 minutes of hiking. We hiked another 20 minutes from here to the trail intersection known as "Grandview Junction." The Pine Knot Trail officially concludes at this intersection, which is situated directly in front of Grandview Point.
Awe-inspiring and expansive, the view from Grandview Point encompasses the San Bernadino mountain range in its entirety. For the time being, at least. We entered the exact altitude level where the fog began as we neared Grandview Junction.
We finally made it up the fairly steep ascent to Grandview Point, but there was still nothing to be seen. We were greeted by a white curtain of clouds, which occasionally parted to reveal the San Bernadino Mountains.
The temperature had dropped significantly once more, and both my wife and I complained of feeling extremely chilly. Even though we were obviously disappointed to miss the amazing view, it did not dampen our spirits too much.
The hike up to this point had been breathtaking. Not even a dumb cloud could steal that from us.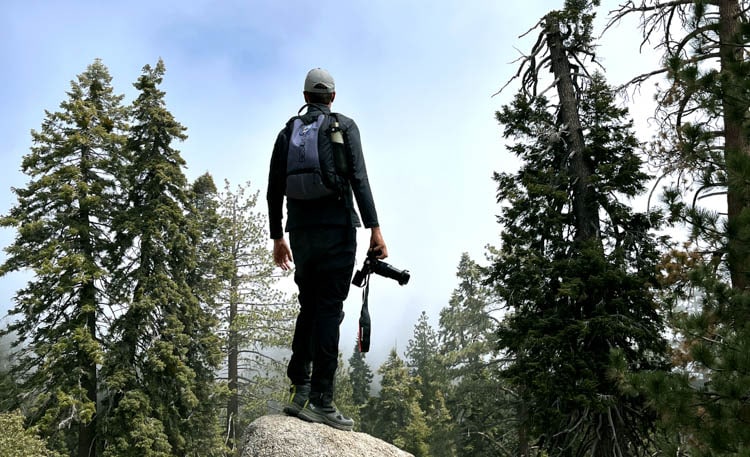 A BRIEF DETOUR ON THE SKYLINE TRAIL
Looking around, I noticed some additional large boulders to our right as we faced the fog wall separating us from the San Bernadino Mountains. We retraced our steps back to Grandview Junction and then turned left at the sign for "Skyline Trail." We decided to take this path for a while until we got tired of it.
The path continued up the mountain range, past some stunning rock formations, to the summit. You couldn't move for the gorgeous rocks that covered the landscape.
The experience of this hike on a sunny day is one I can only fantasize about. It must be incredible to walk along this trail and take in the stunning San Bernadino mountain range. And it was a wonderful sensation even in the mist. It had an air of mystery about it. Due to the limited view, whatever lay around the next corner was a complete mystery.
I was taking some stunning photographs, and the fog helped make for some truly unique compositions. It's fun to take "weird" pictures every once in a while. Everyone loves pictures that show bright sunshine and azure skies. But I enjoy appreciating nature in any form it takes.
Everything has a certain aesthetic value to me. My thinking is exactly like that. I walked alongside them, climbed one to take pictures of it, and nearly lost my footing when I reached the top.
THE HOMEWARD JOURNEY
We continued on the Skyline Trail for another quarter of an hour before turning around. Both of us were beginning to feel the effects of fatigue and foot pain.
Likely because of the 10-mile uphill hike we did the day before. Over an hour later, we made it to the trailhead's picnic area without incident. At the same time, we felt a distinct shift in the air's temperature.
We finished our hike with a romantic picnic beneath the towering pine trees, as promised earlier. There was food, laughter, and a sense of accomplishment as we sat down to it. In four hours, we covered 11 miles on foot. Have we completed this path? Obviously not; we are not doing that at all.
We intend to return and hike the entire length of the Skyline trail to get a better look at the San Bernadino Mountains. Perhaps you, too, will be out on the trail at the same time as us.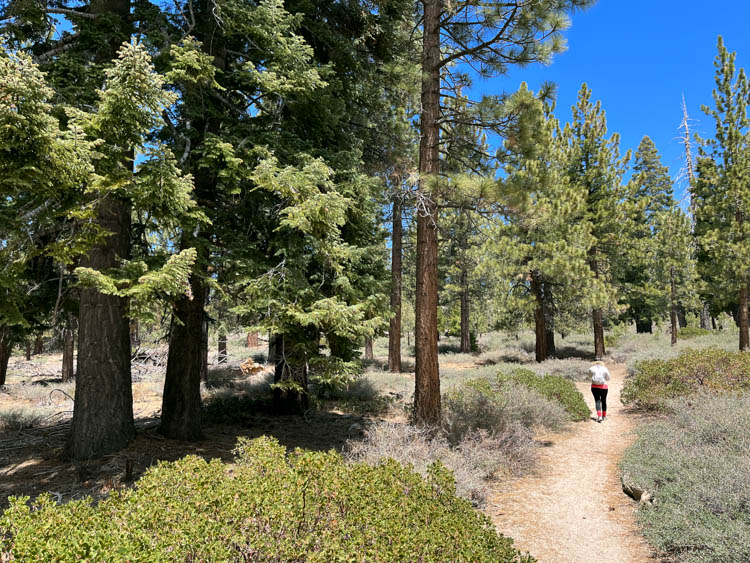 IF YOU GO:
If you want to spend a weekend hiking around Big Bear Lake, your first thought should be where to stay. The good news is that Big Bear Lake has so many options that you shouldn't have any trouble finding something that works for you.
Since we like to spend as much time as possible outdoors, we usually choose to stay in inexpensive places. We can't seem to find the value in the more expensive hotels beyond the ability to take a shower and sleep on a bed.
Several campgrounds can be found all around the lake for those who wish to experience the outdoors in their purest form. Pineknot campground is located only 3 miles from the official Pineknot parking lot.
When it comes to actual hotels, there are plenty to pick from no matter what your budget may be. Motel 6 and Wolf Creek Resort are two examples of inexpensive, clean, and nice hotels. The more expensive places to stay (Castle Wood Cottages / Bluegreen – The Club at Big Bear Village) even have spas and jacuzzis.
You can find everything from low-cost to high-end options, and everything in between. Also, because the lake is so compact, location is not crucial. Therefore, no matter where you choose to stay, you will never be more than a fifteen- to twenty-minute drive away from any of the places you need to visit.
Grocery stores are conveniently located, allowing you to stock up on breakfast items every day before setting out on your hike. You won't have to worry about finding a place with a fridge or kitchen and stocking up on food. Another plus is that, at least where I shopped, items were no more expensive than they would have been outside of a tourist hub.